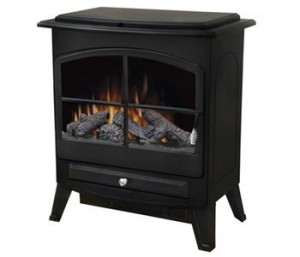 Price:
$239.00
Item Number:
AMBS23001
Manufacturer:
Classic Flame
Dimensions:
Width 23.25″ (59 cm)"
Height 14.5″ (36.8 cm)"
Depth 26.25″ (66.6 cm)"
This replica of traditional cast iron wood burning stoves adds a touch of elegance, and heat to any room. In order to maintain that traditional cast iron stove look, the Oxford has a second tier lid on top that serves to hide the electronic controls. Simply lift the lid and the easy to operate controls are at your finger tips.
The relatively small stature of the Oxford stove makes it a perfect fit for virtually any room. Simply plug in to add ambiance and heat to your living space.
The heater portion of this stove can be set to either a "high" or "low" setting. The adjustable thermostat allows you to maintain a consistent room temperature by cycling the heat on and off as needed. This allows you to set the temperature to a desired level and also saves on energy costs as the heater is not operating all of the time. Even when the heater cycles "off", the fan will continue to circulate air in the room.

* Adjustable flame control
* Adjustable thermostat allows the heater to cycle on/off to maintain comfortable room temperature
* 2 x 750W heaters
* 4862 BTUs
* Decorative hinged lid allows easy access to heater/flame controls while keeping a nice, clean look.
* Operable front door

Width 23.25″ (59 cm)"
Height 14.5″ (36.8 cm)"
Depth 26.25″ (66.6 cm)"
It is a free standing unit.
There is no venting required, allowing a custom made unit to be constructed against any wall in the home
Regular 110v electrical outlet needed. Indoor use only.
To Register your Phoenix Fireplace. For the Phoenix fireplace you need to register for the warranty.

At the moment we are offering Free Shipping on all of our products our products The free shipping offer is only for the for the lower 48 US states only, if you are in any other area call 1 305 830 9430 or 1 800 901 6450 or e-mail sales@directelectricfireplaces.com for a quote.
* Our products ship within 2 to 4 business days. You will usually receive your fireplace in 7 to 10 business days
* Soon after placing your order, you will receive an email to let you know we have received it, if you have paid using Paypal or Google Checkout you will also receive an e-mail from them confirming your payment.
* Depending on the size and weight of the item, we either ship with Fedex Ground or for larger items we use LTL. You will be sent an email when your item is shipped from the warehouse with tracking information
Check the item when it is delivered for damage. Should your item be damaged, be sure to make a note on the driver's delivery sheet