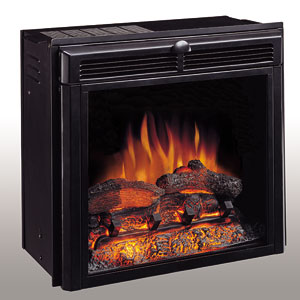 Price
: $269.00
Item Number
: 18EF003GAA
Manufacturer
: Classic Flame
Dimensions:
Width: 19.04″
Height: 16.97″
Depth: 8.53″

Plug-In electric fireboxes add a warm, relaxing feel to your home at the push of a button. Available in a variety of sizes, each of our fireboxes are offered separately or paired with a selection of cabinet, corner and entertainment center fireplace mantels. Each unit can provide the warmth of a fire with or without heat. If you choose, all models provide up to 5,000 BTUs/hr of soothing heat using quiet fan forced electric fireplace heaters. Each Plug-in fireplace comes factory pre-wired, so installation is simple:
* 18″ Plug-In Electric Fireplace
* 10-Year Limited Warranty.
The new all LED Electric Fireplace Firebox Insert
* All LED technology makes the new insert energy efficient , more realistic flame effect and very attractive with a lifespan of up to 100,000 hours.
* All LED technology, no more bulbs to change
* Energy effecient
* Black powder coat finish
* Center-mount door pull
* Realistic crackling and sparking flame effect
* All effects can be controlled independently
* Smoked brick facade
* Opening glass double doors
* Realistic hand carved logs
* Multi-function remote control
* Electric Log Set:
The heater is contained within the electric firebox
The 1,350 Watt Fan Forced Heater which will produce 4500 BTU, supplying enough heat to heat a an average sized room of 400sq ft room

* Black powder coat finish
* Realistic flame effect
* Easy bulb replacement – uses 3 standard 40 watt candelabra bulbs
* Realistic logs create instant ambiance
* Hand-carved glowing logs & ember bed
* Fan-forced heat quietly provides up to 4,600 BTUs/hr (1300 watts) of instant warmth (provides supplemental heat for up to 400 sq ft)
* Four season enjoyment – flame operates with or without heater turned on
* Thermostat controls temperature automatically
* Safe-to-touch glass remains cool whether heater is operating or is off – child safety screen covers heater vent
* Simply plug it into a standard 3-prong household electrical (120V) outlet
* Economical to operate* and a breeze to set up

Width 19.04″
Height 16.97″
Depth 8.53″

This unit is designed to be fitted in to a custom opening, it also fits in to many of our free standing mantels.
There is no venting required, allowing a custom made unit to be constructed against any wall in the home
Regular 110v electrical outlet needed. Indoor use only.

All ClassicFlame Electric Fireplaces include a 10-year limited warranty
Twin-Star International, Inc warrants that your new ClassicFlame Electric Fireplace is free from manufacturing and material defects for a period of ten years from date of purchase. This is subject to the following conditions & limitations.
• ClassicFlame Service & Support: ClassicFlame offers toll-free technical support should you need assistance. In accordance with their 10-year limited warranty, ClassicFlame will provide you with any necessary replacement parts or accessories.
• Why ClassicFlame?ClassicFlame Electric Fireplace Mantels have won numerous awards for their design excellence and commitment to using only the finest quality hardwood solids and hand selected furniture hardwood veneers. ClassicFlame Electric Fireplaces offer realistic flame effect with five flame & heat settings. Glowing logs and ember bed look realistic on or off. Thermostat controls room temperature automatically.When you choose ClassicFlame you can be assured you're getting the finest furniture in the electric fireplace industry.

Shipping Information
At the moment we are offering Free Shipping on all of our products our products The free shipping offer is only for the for the lower 48 US states only, if you are in any other area call 1 305 830 9430 or 1 800 901 6450 or e-mail sales@directelectricfireplaces.com for a quote.
* Our products ship within 2 to 4 business days. You will usually receive your fireplace in 7 to 10 business days
* Soon after placing your order, you will receive an email to let you know we have received it, if you have paid using Paypal or Google Checkout you will also receive an e-mail from them confirming your payment.
* Depending on the size and weight of the item, we either ship with Fedex Ground or for larger items we use LTL. You will be sent an email when your item is shipped from the warehouse with tracking information
Check the item when it is delivered for damage. Should your item be damaged, be sure to make a note on the driver's delivery sheet