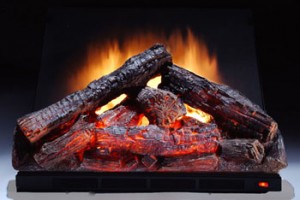 Price:
$479.00
Item Number:
AL24N001
Manufacturer:
inserts
Dimensions:
Width 24″
Height 15″
Depth 12″.
The Arrowflame log sets are designed to convert an existing fireplace to electric.
They require no installation or venting and simply plug in to a regualr electric outlet. They offer a clean low cost alternative to gas of wood.
Enjoy dancing flames with or without heat at the touch of a button on the multi function remote control.
The Arrowflame log sets (AL24N001 & AL30N001) consist of a steel chassis that houses the flame image generator and heater module, tempered glass flame screen that displays the fire image and heavily detailed cast resin logs. The whole unit angles and tapers back to perfectly blend with your fireplace giving the illusion of real burning logs.
The Arrowflame Electric Log Insert is one of the most innovative electric fireplaces available with it's unique random flame effect, 5000Btu heater, Remote control to change heat settings and 10 different flame effect settings.
There are two versions of this model, the 24″ Deluxe Electric Log Set Insert and the 30″ Delux Electric Log Set Insert

* CSA approved
* Multi function remote
* Concealed 5,00 BTU forced air 2 stage fan heater
* 10 Flame settings
* Natural clean flames for any fireplace
* Flames can be used with or without heat
* Cast resin realistic glowing log design
* Seamless integration with your existing fireplace
* The 'Green' alternative to wood and gas
* Also available in 30″ AL30N001
* Free shipping
* 5 year manufacturers warranty

Width 24″
Height 15″
Depth 12″.

The AL24N001 is designed to be installed into an existing fireplace or similar opening.
Opening dimensions must be at least:
24″ wide at the front
18″ wide at a point 12″ from the front
15″ high
A standard 110v electrical outlet is required within 6′

Arrowflame products all have a 5 year warranty
Arrowflame warranty ensures your product is free from manufacturing and material defects
In the unlikely event of a problem occurring with your product Arrowflame will supply you with the necessary replacement parts for a period of 5 years from the date of purchase.
Full warranty details are included in the installation manual
The warranty is limited to the replacement or repair of parts with material or manufacturing defects, provided that the parts have been subjected to normal conditions of use and service.
This warranty is non-transferable, and is made to the original owner, provided that the purchase was made through an authorized supplier of the company.
Arrowflame is one of the leading manufacturers of electric fireplace products, customer satisfaction is the company's primary concern

At the moment we are offering Free shipping on all of our products our products The free shipping offer is only for the for the lower 48 US states only, if you are in any other area call 1 305 830 9430 or 1 800 901 6450 or e-mail sales@directelectricfireplaces.com for a quote.
* Our products ship within 2 to 4 business days. You will usually receive your fireplace in 7 to 10 business days
* Soon after placing your order, you will receive an email to let you know we have received it, if you have paid using Paypal or Google Checkout you will also receive an e-mail from them confirming your payment.
* Depending on the size and weight of the item, we either ship with Fedex Ground or for larger items we use LTL. You will be sent an email when your item is shipped from the warehouse with tracking information
Check the item when it is delivered for damage. Should your item be damaged, be sure to make a note on the driver's delivery sheet